Office Cleaning In Fort Lauderdale, Miami, Coral Gables, Doral & Nearby Cities
How your representatives feel when they stroll into the workplace can affect how useful and prepared they are to get their work done. Hiring professional office cleaners is one of the most amazing ways for organizations to keep everything looking spotless. Professional office cleaning services have every one of the abilities and experience to clean covers, windows, glasses, work areas, furniture, and PCs.
Let us look at the perks of hiring a professional office cleaning service: 
They Bring Their Own Cleaning Supplies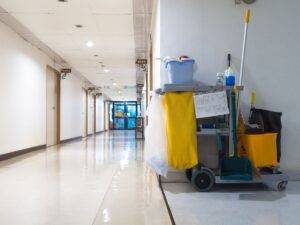 One benefit of employing experts is that they carry their own supplies with them since they realize that you might not have the right cleaning items on hand.
Our trained professionals and service partners provide the best-in-class cleaning practices with a special focus on green, environmentally sustainable, and maximal disinfecting technologies.
Saves Time
Your time is important, and if you are spending a lot of it on cleaning your office or designating such jobs to your staff, it very well may be a waste of that precious time. Using expert cleaners will save you time as well as cash.
Make Your Staff More Averse to Becoming Ill
A perfect office climate is a key to business achievement. Quality janitorial service also helps to provide a good first impression when new people enter and use the building. They also help to keep your space healthy by keeping your building free of germs, leading to fewer sick days used.
A quality office cleaning service should have years of experience in dealing with situations just like yours. Vacuuming carpets, sweeping and maintaining hard floors, washing any windows, disinfecting office spaces, and more are just what you would expect in commercial cleaning companies that you can rely on.
We know how important your business is to you and we are dedicated to delivering outstanding services. It is our belief that communication is key to accomplishing this goal, and we continuously communicate with our clients and employees to make sure everyone's needs are met. Incredible Shine is here to serve our clients 7 days a week, 24 hours a day. Contact us if you live near South Beach, FL, Miami, Coral Gables, Doral, North Miami, and Kendall areas.