Floor Cleaning Company in North Miami, Miami, Coral Gables, and all the Surrounding Areas
If you are among those who think why you should hire a cleaning service for your office building, you are making a grave mistake.  What might seem to you as a basic minimal job goes a long way in creating the first good impression towards your clients. Incredible Shine Services was founded in 2012 as a floor cleaning company for the business houses, schools, hotels, and even churches of Florida. Our technicians are highly-skilled and experienced to work on any surface, be it ceramic, vinyl, terrazzo, marble, hardwood, and also Mexican tile. They make sure to make the surface shine and make it look like brand new. We are here to serve our customers 7 days a week, 24 hours a day. 
Below we have mentioned 3 common types of floor cleaning service offered by us. Take a look.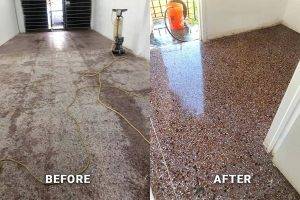 In order to keep your workplace clean and well maintained you should hire a company who are responsible enough to offer you an everyday janitorial cleaning service. These services include basic services like disposal of trash, vacuuming, and sweeping. 
Carpets are quite common in an office setting.  They not only enhance the look of the room but also act as a sound dampening object in a high traffic area. One has to be very careful while cleaning these carpets as harsh carpet cleaner deposit residues can break the fibres faster thus shortening its live span. 
With the amount of footfall the floor of your business house goes through regular cleaning and maintenance is very much required. If ignored. The scuff, Steen, dirt might settle down and be impossible to remove later on. With regular stripping, cleaning, waxing, and buffing your office floor will be in good condition. 
So, if you are looking for a floor cleaning company in the regions of Doral, Coral Gables, North Miami, Aventura, and Miami, you can get in touch with us.