Office Cleaning and Janitorial Service in Brickell, FL
Having a spotless office is an essential part of building a trustworthy brand in Brickell, FL. Business owners need a space that impresses clients and reassures them that they are working with the right company. Providing a healthy work environment also improves employee satisfaction and productivity.
However, the logistics of doing so can prove challenging to manage in-house. Not only do you have to hire professional cleaners, but you must provide them with equipment and workable cleaning plans.
At Incredible Shine Services, we offer you a convenient alternative. Speak to our cleaning experts, and we'll create a custom cleaning schedule to keep your offices spic-and-span. Whether you require a full-time janitorial service or a once-weekly cleanup, we can arrange the right package for you.
Office Cleaning Services in Brickell
We tailor our office cleaning service to your company's needs at Incredible Shine Services. Our team of cleaning professionals works quickly and thoroughly to whip your office into shape. We don't leave until every surface is clean and disinfected.
We do more than meet your office cleaning expectations—we exceed them.
How Are We Different From Other Office Cleaning Companies Serving Brickell, Florida?
What differentiates us from other office cleaning companies? Our clients tell us they appreciate our attention to detail, professionalism, and wide range of expertise.
The Incredible Shine Service office cleaning service includes:
Disinfection
Carpet cleaning
Floor polishing
Touchpoint sanitization
Sweeping and vacuuming
Dusting and polishing
Mopping and waxing
Window washing
Contact Us and speak to us about the range of services that would best suit your needs and budget today! Do we seem to be missing a cleaning service that you require? Just ask, and we can likely incorporate it into your customized package.
Our Brickell Janitorial Service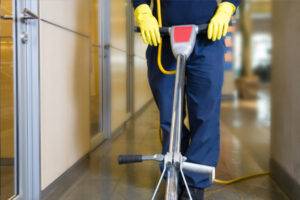 Our comprehensive janitorial service allows you to automatically set your cleaning schedule without breaking your budget. We provide the cleaning team and supplies, and you supply the mess and other daily tasks to perform.
It's our way of giving back to Brickell, FL, and the surrounding areas. We love to keep our community safe and comfortable while working.
Spend your Sunday exploring Brickell City Center instead of worrying about cleaning up your offices. Afterward, head over to Sugar for a quick sundowner or catch a show at CMX Cinemas. Then, round off your day by painting the town red at El Tucán.
Are you tired of office cleaning companies that promise the world and fail to deliver? Switch to our Incredible Shine Services to take your office cleaning in Brickell, FL, to a new level. Call us at (800) 860-1918 today to discuss a tailor-made plan and receive your free estimate.