Janitorial Service in Coral Gables, FL
Regularly keeping the work environment clean and healthy can take time and effort. But, to eliminate unneeded stress, our expert janitorial service can help. We're proud to offer the best cleaning services in and around Coral Gables, Florida.
Our custodial services ensure your office remains spotless—our crew pairs years of experience with customized results. We're eager to assist if you need our assistance once or want to schedule regular appointments. Discover why we're the best office cleaning service around.
Floor Cleaning Company in Coral Gables
We stand apart from other office cleaning companies by providing a comprehensive janitorial service. Our office cleaning services are perfect for businesses of all shapes and sizes.
When you work with our office and floor cleaning company, you can benefit from various services, including:
Dusting
Sweeping and vacuuming
Carpet cleaning
Grout cleaning
Upholstery cleaning
Mopping
Waxing and polishing
Complete disinfection
Once or regularly scheduled cleaning sessions
From top to bottom, our crew will clean every inch of your office, including the breakroom, individual cubicles, and the restroom. We always customize our services with our clients in mind.
We've been providing our services in and around Coral Gables since 2012. Our comprehensive janitorial service works with many buildings, including:
Medical facilities like hospitals
Schools
Places of worship like churches
Hotels
Retail stores
Offices
Our specialized services also include being a floor cleaning company. Our floor cleaning company has the right tools to clean vinyl, marble, ceramic, hardwood, and terrazzo floors. Our team is available 24/7 to provide you and your business with the best cleaning service possible.
You can expect a warm greeting and customized strategies when you call our team. We work hard to ensure we can accommodate all of your business's unique needs. We provide many affordable options as well.
Office Cleaning Companies Serving Coral Gables, Florida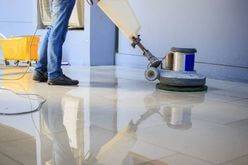 Coral Gables, Florida, is a Mediterranean-themed and planned city that sits seven miles away from Downtown Miami. The city also hosts the University of Miami and features many crucial landmarks. Visitors are sure to appreciate historical landmarks like the Coral Gables Villages. First planned in 1925, Coral Gables continues to honor its historical heritage while incorporating many modern thrills. Whether you're coming for the city's history, exploring its many modern-day shops or restaurants, or are passing by on your way to Miami, you won't be disappointed.
When Coral Gables' businesses need expert janitorial service, they can contact Incredible Shine Services, Inc. today!