Floor Cleaning Company, Floor Polishing, and Commercial Carpet Cleaner in Hackensack, NJ
Everyone loves it when their floors look clean and inviting. However, with time, floors usually get dull and lose their luster. You can prevent this by regularly having your floors cleaned and polished by a reputable floor cleaning company.
At Incredible Shine Services, we offer high-quality floor polishing and cleaning solutions to commercial and industrial clients in Hackensack, NJ, and the surrounding areas. We have the skills, experience, and equipment to clean and perform floor polishing to keep your floors looking good and protected from long-term damage.
Commercial Carpet Cleaner and Floor Polishing Services in Hackensack, NJ
At Incredible Shine Services, we use top-of-the-line tools to promote a healthier indoor environment. With our commercial carpet cleaner, we remove dirt, mold, pollen, and other impurities that affect your indoor air quality and pose health risks to you and your employees. Clean industrial floors mean safe floors for everyone, including your employees, business partners, and customers.
We use the latest and most effective methods to remove stubborn stains, leaving your area rugs and floors looking brand new. As a leading floor cleaning company in Little Jerry, NJ, we have a thorough cleaning process that consists of these services:
Vacuuming
Stain removal
Deodorizing
Exterior pressure washing
Whether you need us to clean tile floors, hardwood floors, or vinyl floors, you can rest assured that we do it all. If necessary, we can also repair broken tiles and make minor flooring repairs due to water damage or high traffic. So, let us transform your floors while you take care of your business and customers.
Floor Cleaning Company in Hackensack, New Jersey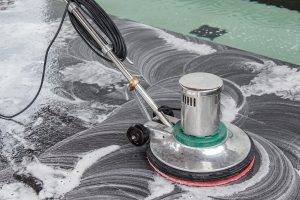 Hackensack is a city in Bergen County, New Jersey, and represents the county seat of Bergen and an inner suburb of New York City. The city lies about twelve miles northwest of Midtown Manhattan and seven miles from the George Washington Bridge.
It is the home of the World War II submarine USS Ling and the former New Jersey Naval Museum.
If you are looking for an experienced and reliable floor cleaning company in Hackensack, New Jersey, the floor cleaning professionals at Incredible Shine Services can help. Whether you need to clean your area rug or require complete floor care service for your concrete floors, we have the expertise and equipment to do the job to your satisfaction.
For more information about floor cleaning, floor polishing, and commercial carpet cleaning services in Hackensack, NJ, call Incredible Shine Services at (800) 860-1918 or contact us.