Disinfection Cleaning Companies in South Beach, FL, by Incredible Shine Services
Few things are more important to your South Beach commercial property than maintaining a clean and sanitized interior. It keeps your staff and customers healthy by preventing the spread of dangerous diseases while making a fantastic impression on new shoppers. Incredible Shine Services offers first-class cleaning and disinfecting in South Beach that will have your store or office in immaculate condition at a price that fits your budget.
Incredible Shine Services is one of South Beach, FL's most trusted disinfection cleaning companies. Our deep cleaning and coronavirus disinfection services will have your commercial property sanitary and clean without stressing your financial means. Whether you need commercial disinfection, COVID cleaning, or routine upkeep, Incredible Shine Services is here for you.
Commercial Disinfection in South Beach, FL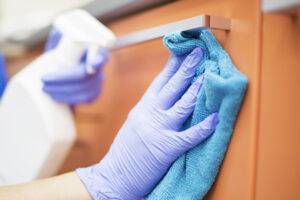 Incredible Shine Services makes cleaning and sanitizing your commercial property easier than ever by handling the entire process for you. Our team will sanitize and disinfect every inch of your South Beach store or office to ensure it looks its best while preventing the spread of diseases.
Unlike other disinfection cleaning companies, Incredible Shine Services uses industry-leading cleaning products and techniques that guarantee superior results. Our coronavirus disinfection services will eliminate COVID-19 from your property while maintaining its welcoming appearance. We never cut corners with subpar supplies and do everything in our power to provide unmatched commercial disinfection services every time we visit your property.
Coronavirus Disinfection and COVID Cleaning in South Beach, Florida
If other South Beach disinfection cleaning companies can't improve your commercial property's appearance and cleanliness, contact Incredible Shine Service. Our commercial disinfection and sanitizing services will boost your property's allure while preserving your staff's health and well-being.
Don't trust unqualified disinfection cleaning companies that don't have your best interests in mind. Give Incredible Shine Services a call or visit our website's Contact Us page and book an appointment today!
About South Beach, FL
South Beach is a beautiful coastal neighborhood just east of Miami. Many Floridians view South Beach as an entertainment hub and attend various nightclubs, boutiques, and restaurants around the area. The thriving nightlife and breathtaking beaches attract people from all over the globe, making it one of Florida's biggest cultural melting pots.
Although South Beach has experienced several renovations and hurricanes over the years, its community continues to thrive. Incredible Shine Services takes pride in our marvelous South Beach community, and we hope you choose us for all your commercial disinfection and cleaning needs.