Commercial Building Cleaning and Commercial Carpet Cleaning in Fort Lauderdale
Keeping your Fort Lauderdale store tidy and clean is an essential part of owning a business. However, keeping a commercial property in tip-top shape isn't easy. Fortunately, Incredible Shine Services offers high-quality commercial building cleaning in Fort Lauderdale, FL, that will increase your business's appeal while driving more customers through its doors.
Incredible Shine Services is one of Fort Lauderdale's leading office cleaning companies. We offer everything from floor polishing to janitorial services at a price that won't break the bank. If you need commercial cleaning and disinfecting services in Fort Lauderdale, FL, contact the pros at Incredible Shine Services.
Janitorial Service and Floor Polishing in Fort Lauderdale, FL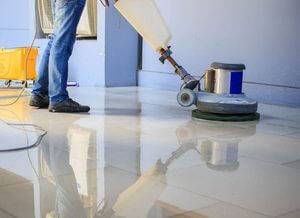 A clean interior and exterior can do wonders for your commercial property. It makes shoppers feel welcome while making it more enticing to new customers. However, maintaining a clean business while running the entire operation is much harder than people realize.
At Incredible Shine Services, our commercial building cleaning experts will breathe new life into your store or office building without surpassing your budget. Our commercial cleaning services can transform even the most neglected properties into impeccable businesses in a few short hours. If you want your Fort Lauderdale store to look its best at a fair and affordable price, contact Incredible Shine Services.
Office Cleaning Service in Fort Lauderdale, Florida
The Incredible Shine Services team understands the best approach to each office cleaning project. Our commercial carpet cleaners will restore your company's floor's original appearance while our janitorial service makes the interior spick and span. We always listen to your needs and go out of our way to ensure you receive extraordinary commercial cleaning services every time you contact our team.
Don't trust inexperienced commercial cleaning companies with your Fort Lauderdale store or office. Give Incredible Shine Services a call or visit our website's Contact Us page and receive high-quality commercial building cleaning services in Fort Lauderdale, FL, today!
About Fort Lauderdale, FL
Fort Lauderdale, FL, is a beautiful coastal city just 30 miles north of sunny Miami. It's the tenth biggest Florida city and has over 180,760 hard-working residents. Thousands of people flock to Fort Lauderdale every year to soak up the sun on its gorgeous beaches and experience its thriving nightlife.
Today, Fort Lauderdale, FL, continues to thrive, and Incredible Shine Services is happy to serve its wonderful community.